Linterna de foco recargable de 9000 lúmenes
PVP Recomendado:
(Precio de venta recomendado al público para tu tienda)
In stock! 1159 unidades disponibles
Shipment tracking in real time - TRACKING
◉ How to place a dropshipping order?
1. Fill in the order with your client's information.
2. Enter your information in "billing".
- We will send the order directly to your client
La linterna LED mejorada utiliza chips LED duraderos con alta salida de hasta 9000 lúmenes, distancia máxima del haz de hasta 3,280.8 ft, siempre te proporciona un mundo de luz brillante.
Linterna recargable con 4 modos: alto, bajo, medio, estroboscópico. Batería recargable integrada de 8000 mAh, asegurando hasta 10 horas de tiempo de funcionamiento. Con cable USB, la luz de búsqueda recargable se puede cargar con batería externa, computadora, cargador de coche, cargador de pared.
4 modos

Cuatro modos de configuración: modo alto, medio, bajo y SOS, que son adecuados para diversas situaciones y satisfacen sus diferentes necesidades.

Indicador de BATERÍA

La linterna del foco tiene un indicador electrónico (se enciende cuando la potencia se acerca al 99%, 66%, 33%). Puedes saber muy bien la potencia restante de la linterna.

Energía recargable BATERÍA

BATERÍA recargable incorporada, la alta capacidad de la BATERÍA es de hasta 8000 mAh. Después de estar completamente cargado, puede funcionar durante 4-10 horas.
Salida de alimentación USB

También se puede utilizar como banco de energía móvil en situaciones de emergencia. Tiene protección múltiple inteligente (protección contra sobrecarga/sobredescarga) como fuente de energía móvil para cargar dispositivos inteligentes, puede permanecer seguro y estable. Puede cargar el dispositivo rápida y fácilmente a través de la batería de alimentación.

Chip LED de alta calidad

La linterna de foco utiliza 4 chips LED para proporcionar los 90000 lúmenes de luz más brillantes. El rango de iluminación ultralargo de hasta 1000 metros (alrededor de 3280 pies) lo convierte en un foco LED recargable de larga distancia. Se puede usar durante más de 100,000 horas, lo que ahorra la molestia de reemplazar las bombillas.

Equipado con un trípode

Se instala un trípode ajustable en la parte inferior de la linterna del foco para sostener la luz. Se puede girar y desmontar, se fija firmemente y se usa a largo plazo sin deformación para fijar la luz en caso de que no se pueda sostener.
Dropshipping: Orders with dropshipping service are sent in a standard postal envelope.
Bulk order : Orders of several units are shipped boxed and palletized.
Don't want to fill your dropshipping orders manually?
Integrate your store to process all your orders automatically.
View full details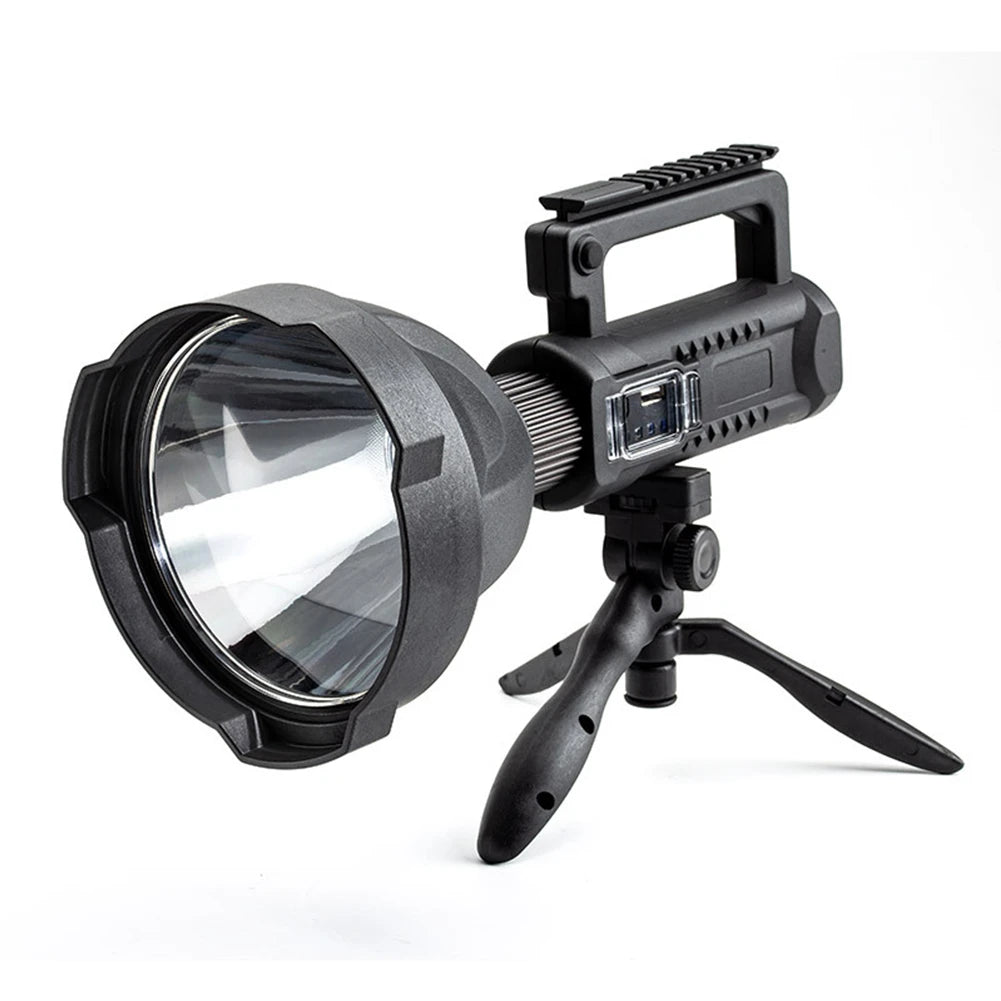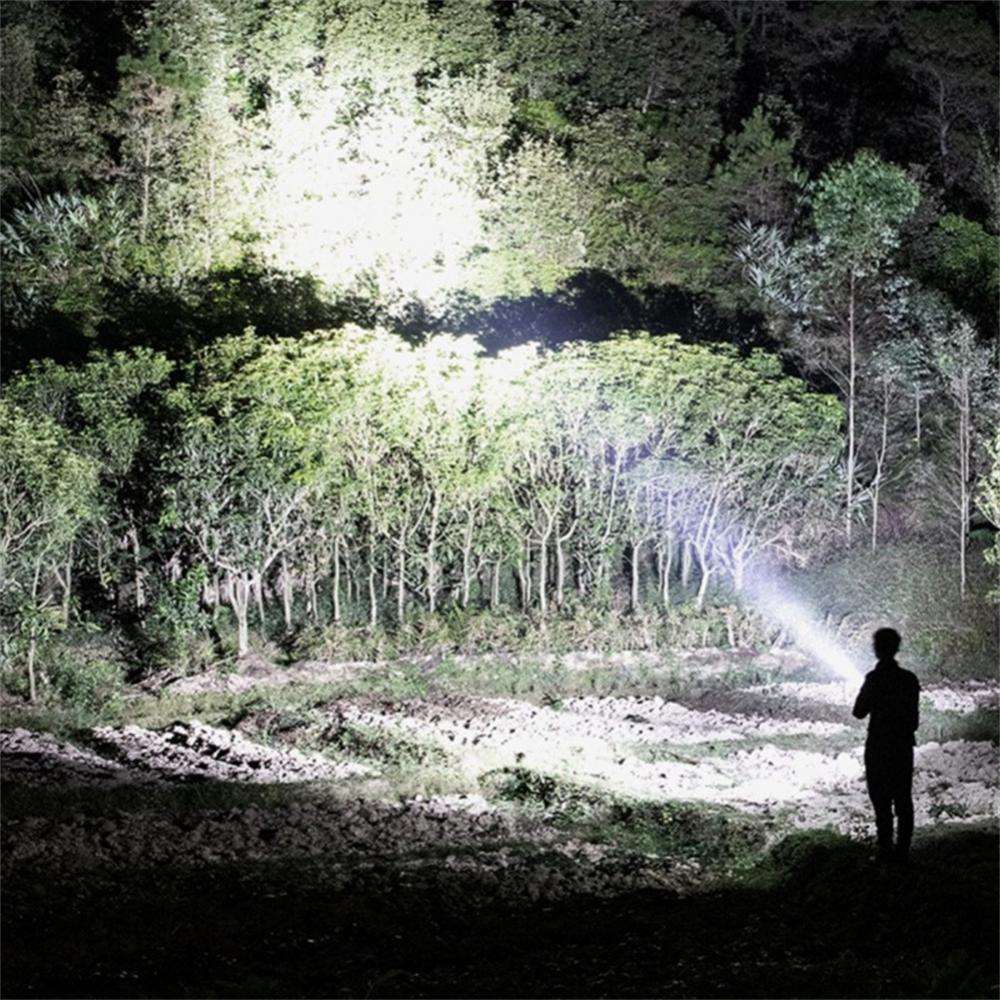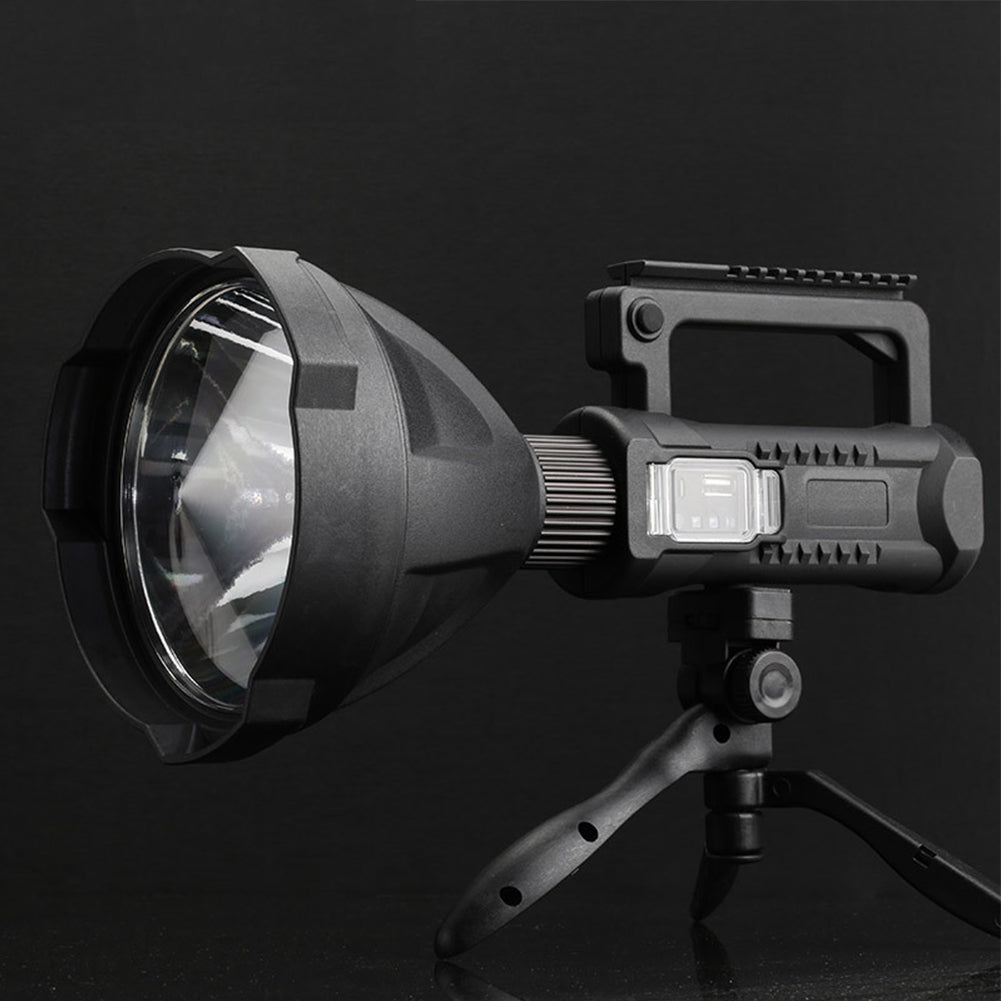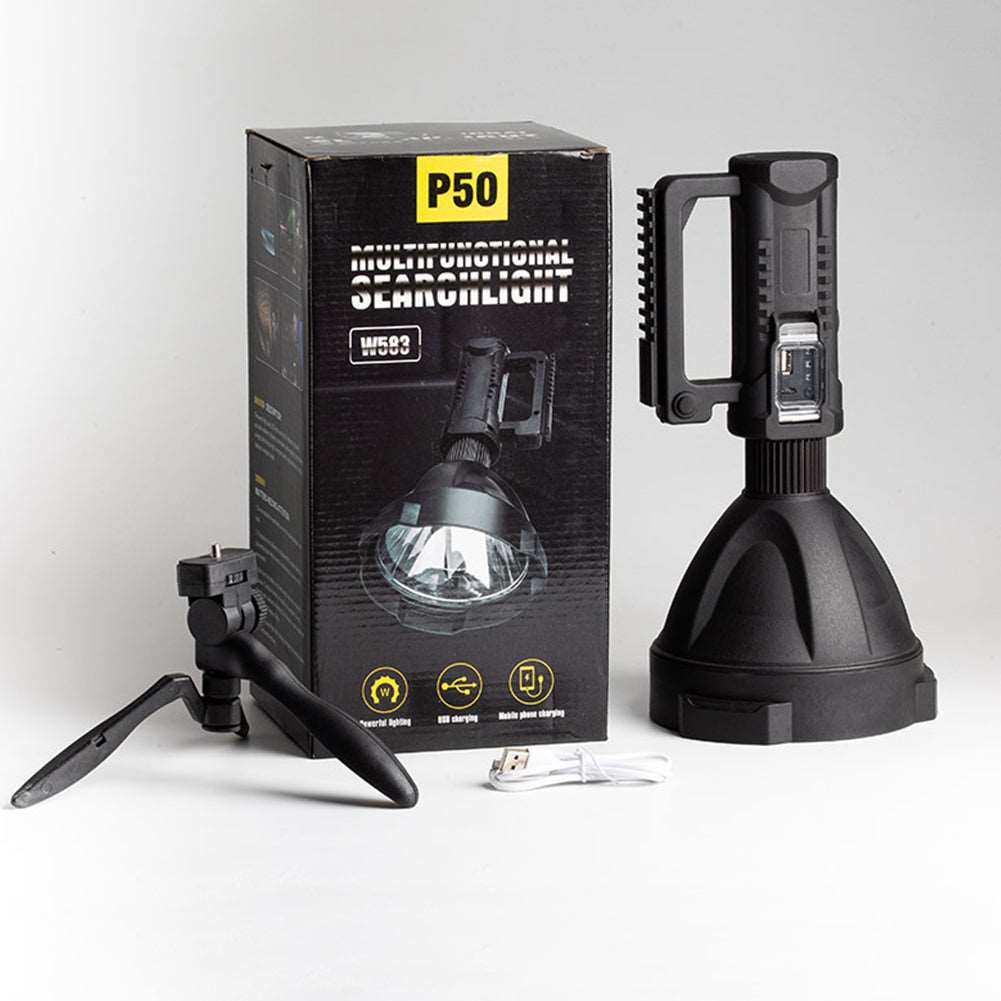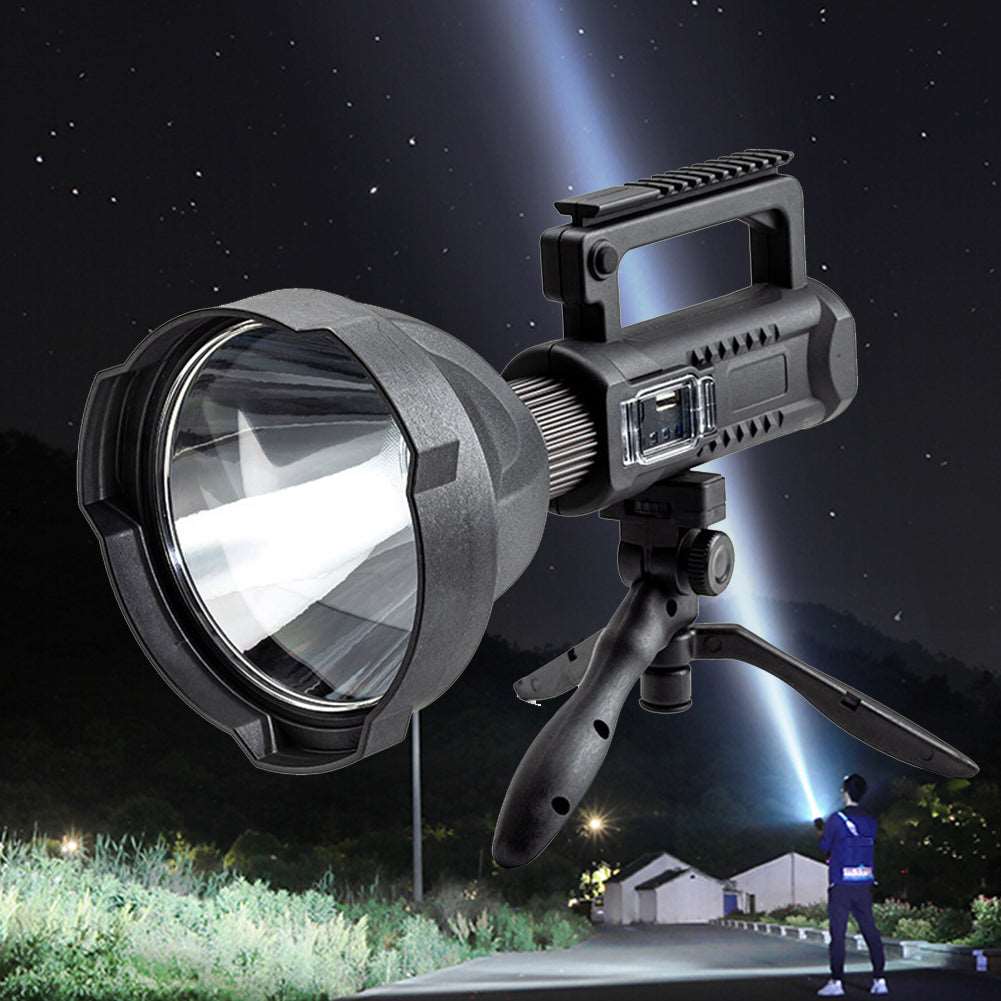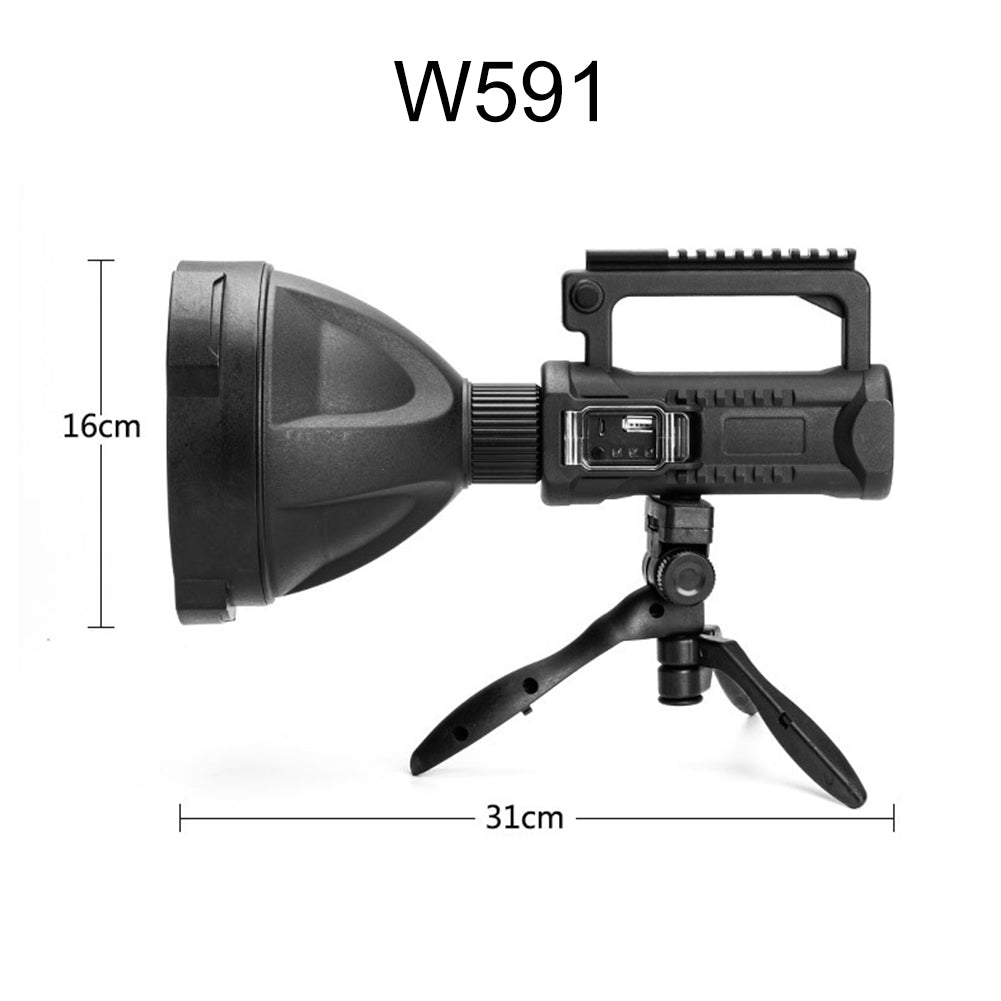 🔥Designed for E-commerce🔥