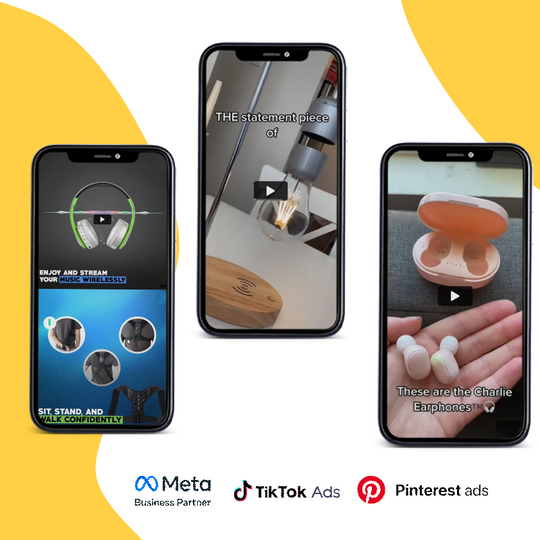 MAKE GOOD ADVERTISING
The importance of the creative
⭐ The algorithms of advertising platforms are so intelligent that segmentation in campaigns is less necessary every day.
⭐ Whether your campaigns attract traffic depends on the quality of your creative, the algorithms will rate you better and therefore you will reach more audiences if you show a quality ad. If your campaign is not giving the expected results, we recommend that you try new ads.
⭐ Stand out from the competition with your own content and quality images in your ads.
⭐ Don't launch a product without having at least 3 different creatives ready.
Video Ad Viral
Send us the link to your product and we will create a personalized advertising video for you.
✅ Of any product, whether or not it is in our catalog
✅ Design for online sales (Campaigns with conversion objective)
✅ Various formats available
✅ Subtitled video option
✅ Express delivery: 3-5 business days
✅ Duration: 30 seconds
CASOS DE ÉXITO VIRAL
¿Que opinan nuestros clientes?
Servicio rápido y eficaz, excelente relación calidad-precio
Estoy muy satisfecho con el resultado de nuestro contenido UGC a través de Stockers. Fue muy fácil la comunicación, rápidos en responder y minuciosos en la preparación, Logrando el guión correcto.Alfonso (nuestro creador de contenido) hizo un gran trabajo, hizo una buena presentación y realmente entendió lo que estábamos tratando de transmitir.Volvería a trabajar con ellos.¡Muchas gracias!
Calidad muy buena,el enfoque de venta es muy bueno para aumentar las ventas.
Gran trabajo como siempre! ¡He pedido muchos anuncios ganadores con ellos y siempre hacen un trabajo rápido y excelente! Recomendado
Consegui mis primeras ventas gracias a sus videos.
Llebava tiempo intentando vender online pero nunca lo conseguia, pensaba que tenia todo bien pero nada que llegaban las ventas, probe los servicios de anuncios UGC y el trabajo es profesional y eficaz, el contenido que crean ayuda a facilitar la venta de un producto, consegui vender por fin, gracias repetire sin duda.
Delivery in 2 -5 business days