Masajeador de Cuello y Espalda Electromagnético
PVP Recomendado: $27.00 USD
(Precio de venta recomendado al público para tu tienda)
In stock! 721 unidades disponibles
Shipment tracking in real time - TRACKING
◉ How to place a dropshipping order?
1. Fill in the order with your client's information.
2. Enter your information in "billing".
- We will send the order directly to your client
¿Tienes dolor de espalda? ¿Molestias en el cuello o en las cervicales?
Descubre nuestro Masajeador de cuello y espalda, especialmente diseñado para tratar las cervicales y dolores causados por el estrés.  Sus impulsos electromagnéticos de baja frecuencia permiten actuar con precisión en los puntos clave del dolor, obteniendo un gran alivio en cuello, cervicales y espalda. Disfruta de una total relajación y una sensación de bienestar inigualable.
¿Cómo alivia el dolor nuestro masajeador?
✔ Reduce el dolor muscular y previene inflamaciones, ayudando a facilitar la circulación sanguínea.
✔ Calma distintos dolores cervicales y produce una gran relajación muscular instantánea.
✔ Trata las zonas del cuello, las cervicales y la espalda de manera independiente o simultánea.
✔ Los imanes incorporados actúan en los puntos de acupuntura, lo que beneficia a los tejidos musculares y al sistema nervioso en general.
✔ Su sistema collar hace que sea realmente cómodo para cualquier persona.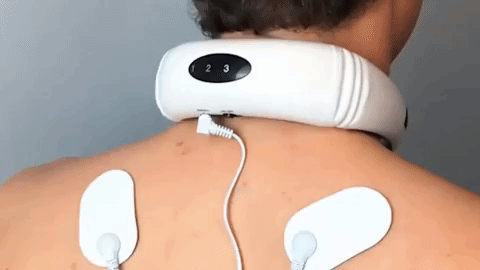 ¿Cómo funciona?
Esta terapia magnética reduce el estrés y ayuda a mejorar nuestra salud mediante la estimulación de las terminaciones nerviosas por impulsos eléctricos.
Además, debido a la tecnología de ajuste inteligente, cualquiera puede ajustar fácilmente los electrodos de acuerdo al tamaño de su propio cuello.
Consta con 6 tipos de masaje diferentes y 16 niveles de intensidad, para poder personalizar al máximo cada masaje.
Datos técnicos
Fabricado de ABS y acero inoxidable.

6 distintos tipos de masaje.

16 niveles de intensidad.

2 electrodos para masaje en hombros o espalda.

Incluye 2 parches para el uso de los electrodos.

Funciona con pilas (2 x AAA, no incluidas).

Frecuencia de pulso: 0-1000 Hz.

Ancho de pulso: 20-400 µs.

Potencia máxima por pulso: ≤300 mJ.

Intensidad del campo magnético: 0,01 T.

Medidas aprox.: 17 x 14 x 5 cm.
Dropshipping: Orders with dropshipping service are sent in a standard postal envelope.
Bulk order : Orders of several units are shipped boxed and palletized.
Don't want to fill your dropshipping orders manually?
Integrate your store to process all your orders automatically.
View full details
🔥Designed for E-commerce🔥